This is a new series I will be doing lasting all February long each Saturday I will be posting a Smash Bros. related feature.  I may continue it longer depending on popularity. Today I will be looking at some of the more popular requests I see floating around in either Miiverse posts or comments, Youtube top 10s and fansite tops 10s (characters not possible such as Goku and Banjo won't be included here). I will go over why I think they should be added and why they shouldn't. Keep in mind I have no control and I'm sorry if you take offense to anything here but it is my opinion. If yours differs or you think of something I didn't I'd love to hear about it in the comments! Anyway let's start this thing!
Waluigi:
I think I see him really often. He doesn't top lists but he is constantly seen on requested lists.
Why he should:
I think Waluigi would be a fun character. His moves would probably involve golf clubs, tennis racquets, fencing swords, etc from the spin offs. Waluigi is also a very popular character with fans. Smash always has mixed popular characters with weird and quirky that no one would expect. I also imagine Waluigi would be a large and fast which I think, Rosalina is the only one currently using that combination so that could add some unique elements to characters.
Why he shouldn't:
The Mario franchise is kinda over saturated at this point. Counting the ones that have appeared playable in a Mario game at some point there are 9 currently. Another issue I have is Waluigi can't be in a game without Wario that would be weird. "But Conor!" I hear the fans scream at the top of their lungs "Wario was in Brawl and Ashley likely means he's in SSB4 too!" Ashley is my issue here. The Wario in Smash is from Wario Ware (his default clothing also helps point at this) which Waluigi doesn't exist in. Sure Wario has an alternate costume but he is clearly kept separate from the Mario series. The final issue is aside from Dr. Mario every Mario character has appeared in a main series platformer. Aside from Diddy Kong this also includes the characters related to the Mario series.
Little Mac:
Why he should:
He's a fighter. That is what his game is all about. With a game on the Wii as well as being an assist trophy in Brawl many gamers currently do know who he is. Little Mac could also be a generic fighter character that can help new players ease in before using someone with projectiles and complicated combos. Little Mac has already fought Donkey Kong so why not the rest of the Smashers?
Why he shouldn't:
I mentioned he could be be a generic fight but that is also a problem. Besides punching and uppercutting what could you fill 4 normal, 4 super and 4 smash attacks with? Mario already fulfills "easy learning character" and he is someone new comers that only know Zelda, Pokemon, Mario and Animal Crossing would pick. Not to stereotype but if you haven't played Smash before and will be playing this you probably are getting it on the 3DS and your library consists of New Leaf, Pokemon, Mario Kart maybe ALBW and the 2 Mario platformers. The kinda people Little Mac would appeal to have no idea who Little Mac is and probably wouldn't pick him.
Issac: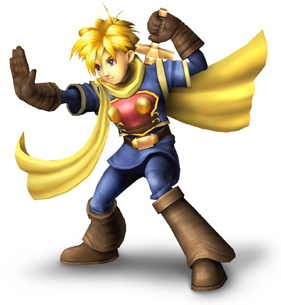 Why he should:
He could be like Ness or Lucas with a bunch of interesting moves that could lead to a really unique character. While I haven't played a Golden Sun game I have seen he has more than enough moves he could use. Issac's Final Smash would be interesting as well. Hopefully not just "PK Star Storm" only with his moves and words.
Why he shouldn't:
Issac's popularity seems very limited. I constantly hear people saying "The hand guy from Brawl" to refer to him, and they aren't people looking to skip out on this game. While Smash does always add the most well known characters (Lucas, Pit, Ice Climbers) none of them were in a position of being promoted from an Assist Trophy which I'm not sure Issac deserves. Maybe make him a little more interesting as an Assist Trophy and if he gets a 3DS game that raises his popularity maybe promote him in Smash 5.
Ridley:
Why he should:
Metroid is a series that has been represented since the beginning and is the only series that doesn't have second character yet that could actually use one. Yoshi and F Zero I feel either aren't major enough or don't have any important characters you think of when you think of their series. Despite what many people say I don't think he is too big. Olimar is smaller than a Gamecube disc and Bowser is constantly shown as far bigger than Mairo where as they are similar in size in Smash Bros. (not exact but far closer than they should be).
Why he shouldn't:
Now I haven't actually beat any Metroid games but from what I've seen a move set may be hard. Aerial attacks are easy but besides that I'm not sure what he'd do that isn't like wing slashes.
Geno:
Why he should:
He's a super popular and cool character. He could be somewhat unique but that's all I've got.
Why he shouldn't:
As I mentioned with Waluigi the Mario series already has quite a few characters so why add a character that (not counting a cameo in 2003) hasn't been in a game since 1996 when he was introduced? Add that to the fact he is a trademark of Square Enix (as seen in Superstar: Saga's credits) meaning he would be a third party character. If Nintendo was to take a character from Square Enix is that really who you'd want? Not someone from Dragon Quest or Final Fantasy?
Mewtwo:
Why he should:
As shown by getting two Mega Evolutions in Pokemon X and Y he still does have popularity and shown by Melee he is fairly easy to make a moveset for. It is hard to put more for this as him being popular is about the only reason a Pokemon from the first generation is even being considered amount 717 other monsters. I guess his relevance was rekindled by XY and the Movie.
Why he shouldn't:
As I mentioned currently there are 718 Pokemon with just under 70 new ones and about 220 introduced since the last Smash game so why a Pokemon that has been around since the start? I'd rather a new character than one that was in Melee anyway. Another note is I don't watch a lot of tournaments but for the ones I do Mewtwo isn't often used.
That is it for this week! What character that I didn't cover (Wonder Red, Krystal, etc) do you think should or shouldn't be added and why? Stay tuned for next week!